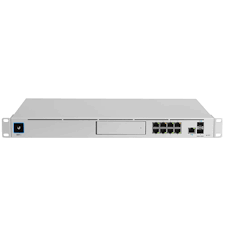 Ubiquiti is a company that offers networking equipment meant mostly for production environment. I've had Ubiquiti's Dream Machine Pro for a few days now and have been trying out the many different features it is capable of. I like a lot the router has to offer but there are a few things that I was disappointed with as well.
Best Features
Disadvantages
There are some missing features that I would like to see Ubiquiti add in software or that I would prefer the hardware be capable of at this price point.
Conclusion
While the dream machine pro has some limitations it is highly capable compared to other routers I have used in the past. This is the first rack-mount solution that I have used and I am very impressed. I highly recommend this router for anyone going the Ubiquiti route in their small business or home network. This router may be able to handle a single rack in a data center but it is nowhere near capable of handling higher layers. Which I would not expect it to at this price point.